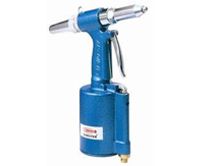 Rivet Nut Tooling - Lobster AR-011M
in stock.
The Lobster AR-011M rivet tool is a lightweight pneumatic tool. This tool offers adjustable spent mandrel deflectors, is durable & portable. An air whip hose can be attached onto either side of the tool, This enables more flexibility when required.

Sets up to 4.8mm standard rivets in Steel, Stainless Steel and Aluminium Rivets, But cannot be used with 4.8mm stainless steel blind rivets.